Schneider Announces Endorsement of Democratic Leader Nancy Pelosi
Schneider ready for sprint to election with army of grassroots supporters, broad support in polling, and deep list of endorsements
NORTHBROOK, IL – Today Democrat for Congress Brad Schneider (IL-10) announced the endorsement of Democratic Leader Nancy Pelosi.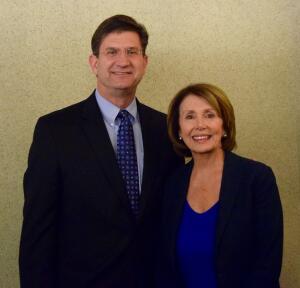 "Brad Schneider is a relentless defender of women's rights and LGBT equality. His legislative vision is a direct reflection of his genuine passion for helping others. We need strong progressive voices like Brad's in Congress. That's why I'm proud to endorse his candidacy," said Democratic Leader Nancy Pelosi.
"I am humbled to receive the endorsement of Leader Pelosi," said Schneider. "I'm looking forward to returning to Congress to work with Leader Pelosi on the critical issues facing Americans."
Campaign Manager Magen Ryan said, "Our campaign is in a better spot than ever less than 60 days from the election. This week Brad received the unanimous endorsement of the AFL-CIO following the recent endorsements of SEIU Illinois State Council, the Lake County Federation of Teachers, and many other unions throughout the Tenth District. The support of labor along with seven members of the Illinois Congressional Delegation, including Tammy Duckworth, more than 60 other of Brad's former colleagues in Congress, the Democratic Congressional Campaign Committee, Secretary of State Jesse White, Cook County Board President Toni Preckwinkle, and more than 30 other local elected officials demonstrates the breadth and depth of the support of his candidacy."
In addition to support from elected officials and labor, Brad has received the endorsement of the pro-Israel Joint Action Committee (JACPAC), the National Jewish Democratic Council (NJDC), the Indo-American Democratic Association (IADO), and the New Democrat Coalition. The broad grassroots and grass-tops support is evident in his standing in the race. Going into the general election Brad starts in an even stronger position than than either of the prior two cycles, with polling showing him leading Congressman Dold by eight points. Similarly, Brad already has a majority of support in the primary, with a dominant 3:1 ratio over his opponent.
Schneider for Congress Endorsements
· Congresswoman Tammy Duckworth (IL-8)
· Congresswoman Cheri Bustos (IL-17)
· Congresswoman Robin Kelly (IL-2)
· Congressman Dan Lipinski (IL-3)
· Congressman Mike Quigley (IL-5)
· Congressman Danny Davis (IL-7)
· Congressman Bill Foster (IL-11)
· Congresswoman Nancy Pelosi, House Democratic Leader
· Congressman Steny Hoyer, House Democratic Whip
· Congressman James E. Clyburn, Assistant Democratic Leader
· Congressman Xavier Becerra, Democratic Caucus Chair
· Congressman Joe Crowley, Democratic Caucus Vice Chair
· Congressman Ben Ray Luján, DCCC Chairman
· Congresswoman Debbie Wasserman Schultz, Chair of the Democratic National Committee
· Congressman Eliot Engel, Ranking Member, House Foreign Affairs Committee
· Congressman Ted Deutch, Ranking Member, Middle East and North Africa Subcommittee
· More than 50 other current and former Members of Congress
· Secretary of State Jesse White
· State Senator Daniel Biss (9th District)
· State Senator John Mulroe (10th District)
· State Senator Terry Link (30th District)
· Former State Senator Dan Kotowski
· Former State Senator Howard Carroll
· Former State Senator Arthur Berman
· State Representative Marty Moylan, Former Mayor of Des Plaines
· State Representative Rita Mayfield (60th District)
· Former State Representative Kathy Ryg (59th District)
· Village President Dean Argiris, Village of Wheeling
· President Glenn Ryback, Village of Wadsworth
· Mayor Wayne Motley, City of Waukegan
· Mayor Steve Pannell, Park City
· Mayor Andrew Przybylo, Village of Niles
· Mayor Leon Rockingham, City of North Chicago
· Former Wheeling Village President Sheila Schultz
· Cook County Board President Toni Preckwinkle
· Lake County Board Commissioner Diane Hewitt (District 2)
· Lake County Board Commissioner Bill Durkin (District 8)
· Lake County Board Commissioner Mary Ross Cunningham (District 9)
· Lake County Board Commissioner Audrey Nixon (District 14)
· Former Lake County Board Member and Founding Member of the Board of the Adlai Stevenson Center for Democracy Carol Spielman
· Waukegan Township Supervisor Patricia Jones
· Avon Township Clerk Jeanne Kearby
· North Chicago Alderman Bonny Mayfield
· North Chicago Alderman Bobby Allen
· Waukegan Alderman Sam Cunningham
· Village of Deerfield Trustee Dan Shapiro
· Village of Glenview Trustee Deborah Karton
· Village of Lincolnshire Trustee Mara Grujanac
· Illinois AFL-CIO
· Amalgamated Transit Union International
· International Brotherhood of Electrical Workers Local 15
· International Union of Operating Engineers Local 399
· Illinois State Association of Letter Carriers
· Lake County Federation of Teachers
· SEIU Illinois State Council
· Sheet Metal Workers Local 73
· United Auto Workers Region 4
· Pipefitters Local Union 579
· International Association of Fire Fighters (IAFF) Local 4224 in Lincolnshire-Riverwoods, IL
· International Association of Fire Fighters (IAFF) Local 3079 in Wheeling, IL
· Democratic Congressional Campaign Committee (DCCC)
· New Democrat Coalition (New Dems)
· Joint Action Committee for Political Affairs (JACPAC)
· National Jewish Democratic Council PAC (NJDC PAC)
· Indo-American Democratic Organization (IADO)
· End Citizens United PAC